How to Order
We receive many e-mails and phone calls asking us "how to order" or "where can I get your products".
This web page explains why we do not have "online" ordering system at this time.
First of all we want you to be 100% satisfied with all SynLube™ products that you buy!
That is why for a first time customers we do not have online ordering, as we have found out in the past that people have frequently ordered the wrong quantities, the wrong items or wrong filters for their particular applications.
To make sure that you not only receive what you "want" but actually what you "need" we prefer that initially you send us a direct e-mail to:
Please specify your application such as:
MAKE
MODEL
YEAR
Engine

TYPE (V8, V6, I4, etc.)
SIZE or Displacement (5.7L, 350, etc.)
This way we can select the proper products for your particular application.
Only the most popular and basic products are listed on our web page, but we have over 120 different products, some of which may be more appropriate for use in your specific application.
Once you are our customer we have your account for each of your applications (or vehicles) listed separately in our computer system data-base and for typical re-orders such as ADD OIL, you can just leave your name and desired quantity on our 24 hour, 7 day voice mail system, which you can reach in North America by calling toll free::
1-800-SYN-LUBE      (1-800-796-5823)
or
702-683-8292
Existing customers can also just send us a simple e-mail specifying their re-order.
We have found out that this method is much preferred to other on line time consuming options such as "web forms", "shopping carts" and other on-line "ordering systems", that are not always reliable with ALL browsers that are in use around the world.
Simple direct e-mail is the most reliable, secure and fastest way to handle re-orders.
Secure server administers this e-mail account, and it is safe for sending all information.
---
Accepted Payments:



American Express DISCOVER Master Card VISA
Credit Cards
are accepted on all direct orders.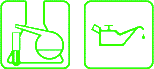 [Home] [Motor Oil] [ATF] [Gear Oil] [PSF] [Grease] [Coolant] [Oil Filters] [Magnets] [Brake Fluid] [Gauges] [Tools] [Specials] [Sale Items]
Send E-mail to synlube@synlube.com with questions or comments about this web site.
Copyright © 1996-2012 SynLube Incorporated
Last modified: September 26, 2012
---
Lube-4-Life® is a Registered Trademark of SynLube Incorporated







This web page was successfully Validated as: "XHTML 1.0 Transitional with CSS" and tested in all above browsers