Home | What's New | Contact Us | How to Order | PRICE LIST | Sitemap | Publications | FAQ | LINKS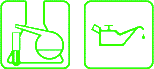 SynLube™ Lube−4−Life® 1−800−SYN−LUBE
SPACE SHUTTLE
SynLube™ supplied hydraulic fluid (HF) which is similar to our PSF (Power Steering Fluid) is used by NASA in the Landing Gear System in every Space Shuttle Flight.
SynLube™ has been chosen because of its wide operating temperature range (-70 F to 700 F) high viscosity index (VI=220) and universal compatibility with the seals and materials used in the Landing Gear System components.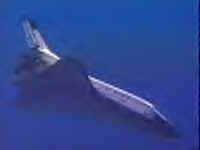 Orbiting in Space the HF fluid reaches -30 °F to -40 °F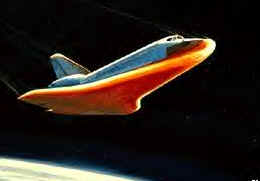 30 minutes before landing the ceramic tile covered bottom is red hot and the HF fluid reaches 375 °F to 425 °F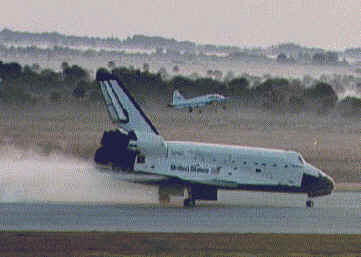 Minutes before landing the Landing Gear mechanism powered by the HF which is still at over 275 °F must operate reliably, as there is only ONE chance for safe landing.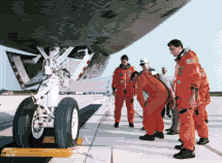 Detail of the Landing Gear
---
The Final Space Shuttle Mission: STS-135
Space shuttle Atlantis lands for the final time at NASA's Kennedy Space Center in Florida. Image credit: NASA/Bill Ingalls
Space shuttle Atlantis lifted off July 8, 2011 on the final flight of the shuttle program, STS-135, a 13-day mission to the International Space Station. Atlantis carried a crew of four and the Raffaello multipurpose logistics module containing supplies and spare parts for the space station. The STS-135 astronauts were Commander Chris Ferguson, Pilot Doug Hurley, and Mission Specialists Sandy Magnus and Rex Walheim.
---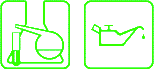 ---

---
Home | UP | Motor Oil | ATF | Gear Oil | PSF | Grease | Coolant | Oil Filters | Magnets | Brake Fluid | Gauges | Tools | Specials | Sale Items
Send E-mail to synlube@synlube.com with questions or comments about this web site.
Copyright © 1996-2013 SynLube Incorporated
Last modified: 2013-04-26
Lube−4−Life® is a Registered Trademark of SynLube Incorporated







This web page was successfully Validated as: "HTML 5 with CSS level 3" and tested in all above browsers